VIDEO: Wet'suwet'en Clans Visit the Yin'tah for Decision Making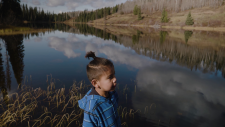 As Wet'suwet'en, we have never given up our rights or title to 22,000km2 of our traditional territories. We continue to govern these lands according to Wet'suwet'en law, and make decisions on our territories with our clans and house groups.

Recently, all five Wet'suwet'en clans went out to visit our ancestors on our territories, to practice our own laws, and to exercise our decision making processes. This video gives a glimpse into how Wet'suwet'en people govern our own lands.