Ada Prince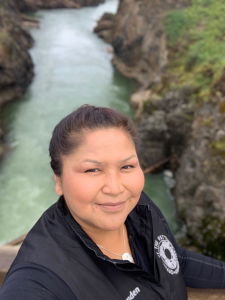 Name: Ada Prince
Position: ANABIP Frontline Worker - Prince George
Ada was born into the Gitdumden (Wolf/Bear) Clan. Her work is in the ANABIP'S newest prevention program. Ada has lived in Prince George most of her life. She is a single mom to four beautiful children, who are in their teens now. Her parents are Mary Michell from Wet'suwet'en First Nation and Louis Madam from Witset First Nation.
Ada's duties include:
Increase Wet'suwet'en Nation-based support services in Prince George;
Increase extended family and house group members readiness back home to receive family members for cultural connections/ events and placements.
Increase Wet'suwet'en decision making influence on CFCSA court matters, evidence by increase in culturally-grounded alternatives;
Develop and maintain caseloads;
Increase advocacy for membership;
Increase cultural connectivity by increasing opportunities for membership; Wet'suwet'en Wednesdays, berry picking, feasts, etc.
Ada is an active member of the Street Church Mission of Prince George for 16+ years. She volunteers weekly to feed the hungry and also sits on the board as Vice President for her church. Ada's core values include boldness, faith, honesty and spirituality which guide her everyday decisions at home and on the job. She loves making space around her feel accepting, cared for and is approachable.
On her free time, Ada loves spending time on her family trapline or on any Yinta. She feels the most connected out on the land. With that being said, Ada hopes to connect more of our Wet'suwet'en babies, children, youth and families to the land. The land can be a form of healing and her main passion would be to see our people thrive together in unity.