Brian Michell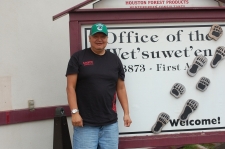 Name: Brian Michell
Position: Fisheries Technician
My name is J. Brian Michell. I am a member of Cenegh Lhiy Yikh (House of Many Eyes) Laksilyu.
I live in Tse Kya (Hagwilget) and have been employed by Wet'suwet'en Fisheries as a Technician since August 2, 1995. My duties as a Fisheries Technician include: supervisor for the annual tag and release program, enter raw data into our data base for annual reports to DFO. I do stream walks in our rivers and streams on Wet'suwet'en Territories. Assist with the 2012 Water Quality Program including gathering necessary equipment, maps, and field checks on previous sites identified in 2008.
I have been married to Sheila Gunanoot Michell since August 21, 1999. We have one sone James Bon Scott Michell. A proud Papa to Dempsey Dominic, Tristian Hilbach, Shaya Hilbach, Dawn Gunanoot and George Dominic Jr.
My hobbies are collecting sports memorabilia and watching and cheering for Vancouver Canucks. Go Canuck Go!!!