Chief Samooh (Herb Naziel)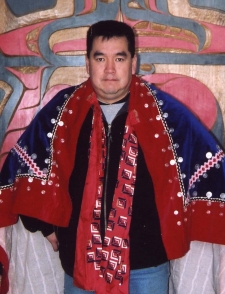 Gil_seyhu - Kayex House (Birchbark House)
Chief: Samooh (Herb Naziel)
Samooh resides in Moricetown and his occupation is in Forestry. Samooh's interests and hobbies are fishing, trapping, hunting and biking. Samooh received his name in 1988.
Samooh was most influenced by his late grandfather Chief Wah tah Kwets (Pat Namox). Pat was very influential with Samooh's education of the hereditary system, feast system, life style, and survival on the territories, storytelling and history of the territories. He also explained the division of the Wet'suwet'en territories and how they were divided up geographically into 5 clans.
Samooh's grandmother was Chief Goohlaht (Lucy Namox), wife of Chief Wah tah Kwets. Samooh is the son of Chief Mutt (Bill Naziel) and Cora Naziel (maiden name Namox).