David Belford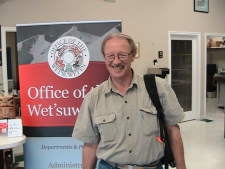 Name: David Belford
Position: Mineral Liason
Since 1975, David has lived in northern BC, working with Crown corporations, government agencies, the private sector, and aboriginal organizations on conflict resolution, mediation, communications planning, media relations, organizational development, policy analysis, economic development, aboriginal, and community relations.
A resident of the Bulkley Valley since 1998, David has been active in the community, serving on the Bulkley Valley Community Resources Board, the Smithers Community Services Association, and is currently chair of the Bulkley Valley Economic Development Association.
He is work with the Office of the Wet'suwet'en is to ensure the mineral exploration, and other natural resources development companies recognize, communicate with, and engage Wet'suwet'en on title, rights and interests.
Since 2008, he has negotiated Communications & Engagement Agreements (CEA) with the majority of mineral exploration companies active on the territories. CEA's and Project Assessment Agreements have also been negotiated with pipeline companies to support OW Natural Resources due diligence through the Environmental Assessment process.