Debbie L. Pierre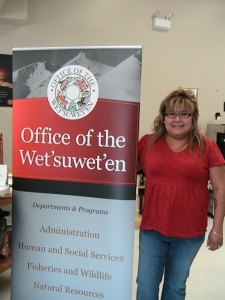 Name: Debbie Pierre
Position: Executive Director
Debbie is born into the Gilseyu Clan (Big Frog), Debbie comes from a strong cultural background, her grandfather Hereditary Chief Wah Tah Kwets JB (Pat) Namox was a strong Wet'suwet'en leader and contributor in the development of the Office of the Wet'suwet'en. While being successful in today's society he maintained the Wet'suwet'en Laws, Language and Culture in all aspects of development. And, her grandmother Goohlht (Lucy Namox) who provided a strong matriarch of the Gilseyu Clan and participated in the development of social program one of which includes Wet'suwet'en Child welfare Agency. Debbie's parents are Hereditary Chief Kloum Kuhn from Laksamashu Clan Patrick Pierre and Ggodzu'git (Virginia Pierre). Debbie resides in Kyah Wiget (Moricetown) with her husband Mark John.
As the Senior Administrator oversees the management of all program and administrative operations of the Wet'suwet'en Nation Administration Office to ensure effective program delivery in a cost effective manners.
The Executive Director will provide executive supervision to the managers to ensure effective, culturally appropriate programs for the Office of the Wet'suwet'en.
The Executive Director is accountable for all organizational performances and exercises all authority transmitted into the organization by the Chiefs.
The Executive Director's performance will be considered to be synonymous with organizational performance as a whole.