Mike Ridsdale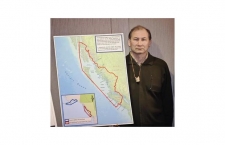 Name: Mike Ridsdale
Position: Environmental Assessment Coordinator
Mike Ridsdale is a Wet'suwet'en member of the Tsayu Clan belonging to the Rafter on the Beaver House. Mike has worked extensively with and within a number of First Nations programs for the past 6 years; to conduct fisheries management activities such as salmon stock assessment, fisheries planning, conservation biology, and resource management.
Mike's work has him perform a wide range of office and field activities, some of which include:
i. acting as project lead on various stock and habitat monitoring, assessment, protection and/or restoration projects in the North Coast of British Columbia.
ii. producing and designing proposals, and numerous management plans on behalf of the First Nation.
Mike has an extensive background in environmental work and has experience in; vegetative analysis, emergency environmental response (Queen of the North), shellfish mariculture studies, bivalve biotoxin investigations and management, First Nations fisheries management, EA processes on major industrial developments (Prince Rupert Port Expansion Phase II).