Tara McKinnon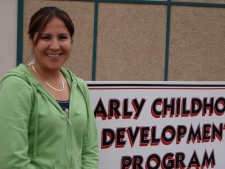 Name: Tara McKinnon
Position: ECD Program Coordinator
My name is Tara McKinnon, I belong to the Nisga Nation, Kincolith B.C. My mother, Karen Stewart is from Kincolith and my father, Roy Ridsdale is from Hagwilget B.C.
As a Coordinator of the Early Childhood Development Program, I am responsible for providing leadership and planning to ensure in keeping the philosophy of the ECDP. mentoring to assure to early childhood education/care best practices.
I recognize that young children's early experiences and environment lay the foundation of furture health, success and well-being. The early years, a period of rapid growth and development from conception until age six, are critical for a child's physical, social/emotional and cognitive development. To support parents and caregivers of young children, Early Childhood Development (ECD) provides a range of programs and services designed to ensure children get the best possible start in life.